Today I am excited to launch our latest enhancement to the Unqork Community Hub: Feature History. Whether you are troubleshooting configuration issues or searching for the latest information, we want to make it easier to stay up-to-date on changes to the Unqork platform.
 
---
What is Feature History?

Feature History is a new area on the Community Hub that complements to our existing Release Notes cadence and update blogs.  
How it works
Feature History unbundles updates from our Release Notes and Documentation Update blogs. The individual updates are then re-bundled around specific features of the Unqork platform. 
Individual threads for specific features (75 so far)

Components
Module Builder and Workflow Builder
Workflow Nodes
Workspaces, Administration, and Security features
New features like Dynamic Refresh and Real-Time Configuration Analysis

Threads track recent updates

Updates from release notes and documentation updates are added as replies

Enhancements
Bug Fixes
Updates to documentation or new resources

The main post at the top of the thread links to documentation and self-guided training resources
Scroll through to see what has changed and when
See an example at the bottom of this post!
Scope of updates:
At launch these posts have updates dating back to the 6.66 Unqork platform release.
Going forward, updates will be archived after 16 weeks, when the majority of environments are no longer using that platform version.

Multiple ways to follow
Click 'Get Email Updates' on the posts for topics you want to follow
Updated posts will show in community feeds on the home page

Since Your Last Visit
Recently Active Posts
Latest Posts feed

Access the Feature History forum via the Navigation Menu
Find them via search
How to get started
Visit the Feature History forum
Scroll through or search for features you want to follow
Select 'Get Email Updates' if you want to be notified when updates are added to the thread. 
 
---
Example Thread

Here's an example of what you can expect, using our Dynamic Refresh thread. 
Updates in your feed

Main post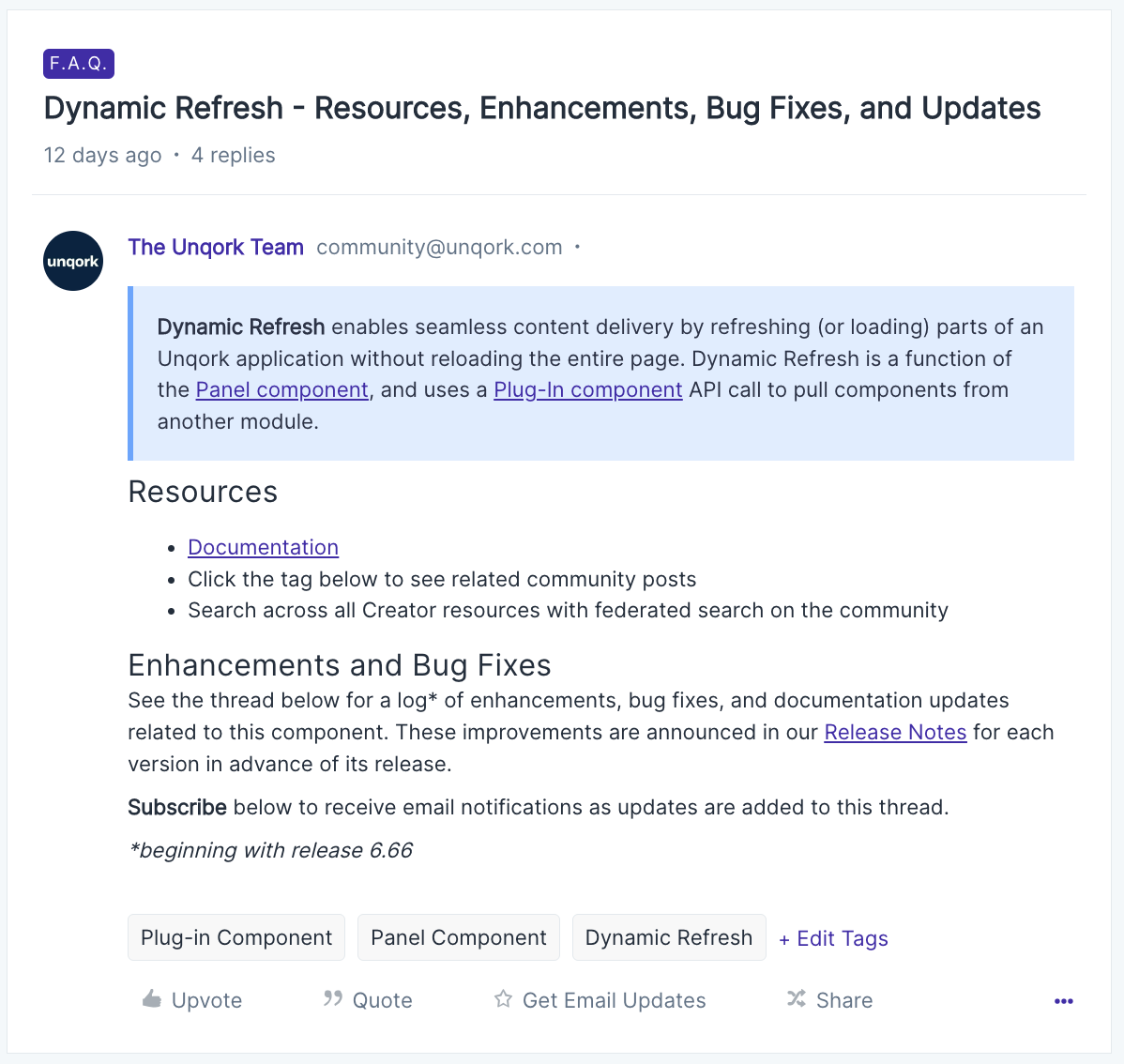 Updates thread