We're excited to announce that Novice Configurator badges earned through Unqork Academy are now reflected on Community Hub profiles! Obtaining your Novice badge is no small feat and now you'll be able to show off your hard work.
Previously, we had showcased only Associate Configurator certifications and above. Now, these badges recognize the accomplishments of Creators in our community and help provide context as you ask and answer questions. 
Earning the Novice Badge
Being awarded a Novice badge is the first step in your Unqork learning journey and allows you to confidently navigate the platform and build your first basic application.
For those looking to obtain the Novice badge and show off your new skills, you can prepare through two distinct paths depending on your learning style.
Complete the self-service creator workshop learning path; or
Sign up for a 2-part live instructor-led workshop series. Each session is 2 hours and is hosted weekly.
Showcasing Your Badge
We reflect this accomplishment in two ways on community profiles. These happen automatically when you earn this badge through Unqork Academy. 
Novice Configurator Badge
Novice Configurator Rank (displays near your user name)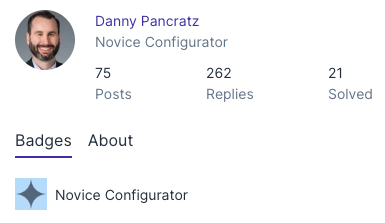 Note: If you have achieved a higher certification and/or SME status, you will that reflected as your rank.
For those who have previously attained their novice badges, congratulations! The badge should already be showing on your community profile. If you have earned this badge and it is not displaying, please reach out to community@unqork.com with proof your badge (Credly email, link to Linkedin profile with the badge).
Additional Badges